---
Thursday Club Rewards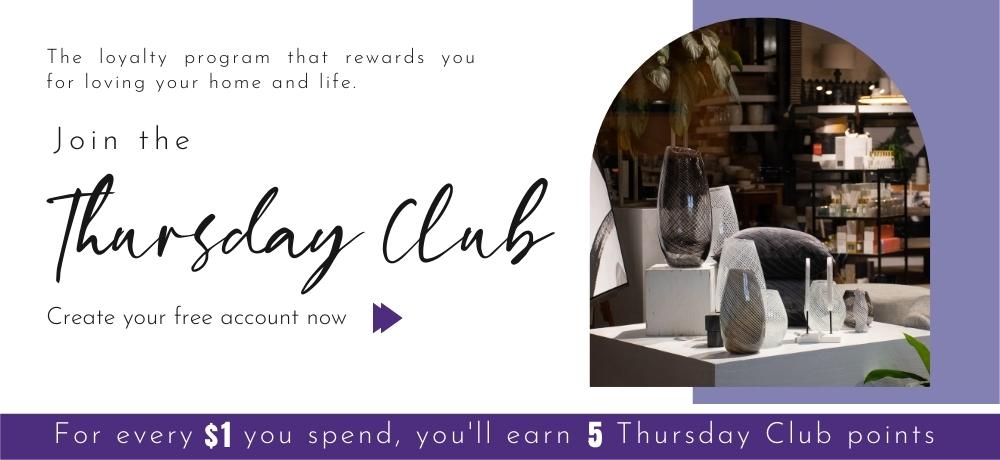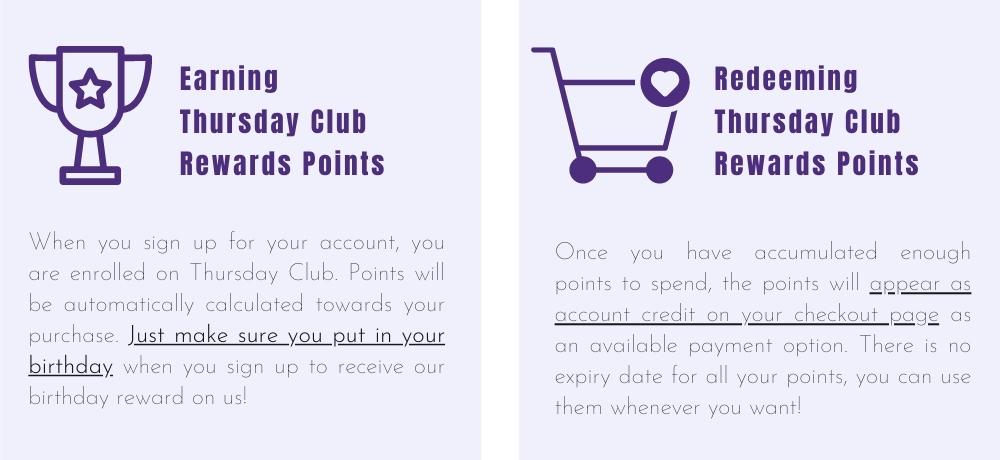 What is Thursday Club?
Thursday Club is Thursday Living's loyalty program, where you get rewarded for loving your home and life. Thursday Club gives you special access to gifts, sales events, and many other perks from time to time. It's real rewards and really simple.
How to earn reward points?
When you checkout with an order, you will be able to see the rewards on the checkout page. There will be a section titled 'Rewards Earned' that will indicate how many points or credits you will earn. You will only see this when they have logged in to their account, as guest purchasers cannot earn reward points.
How to get the birthday gift?
Remember to put your birthday in your account! If you forget to put it in or do not know how to put it in, email us at admin@thursdayliving.com.au and we will put that into your account :)
What information do I have to provide to join Thursday Club?
Alongside the usual information we require from Thursday Living customers (including first name, last name, address, phone number), Thursday Club members will be required to provide a birth date. We need this information so we can make sure your experience is as personal as possible and so that you get a pressie on time to celebrate your birthday.
How do I know my points balance?
You will receive an email letting you know that you have earned reward points. The My Account page also shows the points you have earned. These points will only appear if you have earned enough points to spend (50 points).
How to redeem reward points?
Once you have earned enough points to use them, the rewards points will appear as account credit on your checkout page as an available payment option.
You will be able to choose how much credit to use against the purchase. For example, you can pay for half an order through credit and the remainder using a different payment method such as PayPal or Visa.
When do my points expire?
Never :)
What happens to my balance when I return products?
If you return a product for a refund, the cost of that product will be deducted from your spend balance.